Saturday, 09 June, 2012
Last Updated on

Thursday, 17 January, 2013 21:16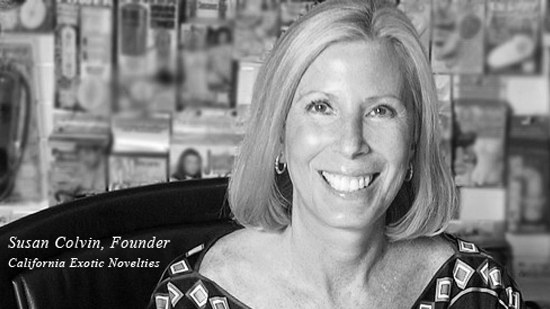 When Susan Colvin began working for an adult toy company in the early eighties, she was one of only two women in management positions industry-wide. Today her company, California Exotic Novelties, is one of the top novelty companies in the world. While working at CPLC, a full-service adult products distributor, Colvin found herself rapidly facing unemployment when it was announced that the company would be shutting down do to a costly legal battle with the U.S. Justice Department.  As CPLC's general manager, Colvin was held personally liable and convicted of interstate distribution of obscene materials. It was at that time that Colvin and the management team decided to disband the company and break off the novelty arm of the business. In 1994 Colvin purchased the line Swedish Erotic from CPLC and began building her novelty empire.
The problem she quickly discovered was that the packaging was intended for a primarily male audience, something that would severely limit the sales of adult toys.  In a male dominated industry, Colvin decided to redesign the entire process, from packaging, to product design, to shipping.  She insisted that the packaging needed to be more tasteful and discreet, while the toys needed to have wider spectrum of shapes, colors, and functions—things pleasing to her target female audience.  Under her guidance and leadership, California Exotic Novelties (CEN) was born.
Credited with the creation of the original Rabbit Vibrator, CEN now carries products for both men and women, running the spectrum from the standard vibrators and dildos to masturbators, pumps, love dolls, fetish toys, and manuals and instructional DVDs.  CEN has also partnered with sex educators like Sue Johanson, who designed the "Talk Sex Royal" line (tagline: "Innovation, Luxury, and Passion") and Dr. Laura Berman, as well as adult stars such as Alexis Amore, Tyler Knight, Julian and rock star Phil Varone, whose line introduced the first ever rock star mold and pierced dildo.
Susan Colvin was inducted into the AVN Hall of Fame in 2011 for her work in the adult toy industry and California Exotic Novelties continues to create new, well-built, and tasteful novelty products.
You can read more about Susan Colvin and California Exotic Novelties in the book The Unsexpected Story.