Thursday, 09 August, 2012
Last Updated on

Thursday, 17 January, 2013 21:16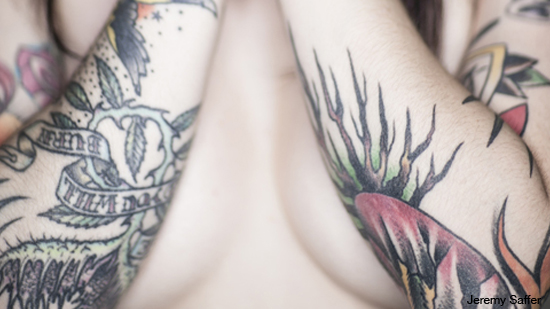 Joanna Angel, the five foot tall tattooed queen of alternative porn didn't always have her eye on conquering the world of adult.  Born on Christmas Day, this New Jersey native pierced her belly-button in ninth grade, got her first tattoo at a very acceptable 18 years of age, and attended Rutgers University where she received her Bachelors in English Literature in 2003.
But the degree was not what would launch her into the world she inhabits today.  While at Rutgers, Angel roomed with Psychology student, Mitch Fontaine.  Sick of the breast implants and the seemingly constant blonde porn stars, Angel and Fontaine collaborated to create a new look for porn, one that would involve funky colored hair, piercings, and tattoos—girls that they would want to see in their adult movies.
Thus BurningAngel was launched in April, 2002 featuring not only erotic pictures of Angel and her friends, but adult stories, blogs, and music reviews of indie and punk bands.  As the site quickly grew, Angel moved to Brooklyn to work as a stripper before finally realizing that BurningAngel was going to require her full time focus.
Soon, she was ready for her film debut.  Shot in the summer of 2004, BurningAngel.com: The Movie was shot on a Brooklyn rooftop with an audience of fifty people.  The movie was interspersed with interviews of indie bands, Dillinger Escape Plan and My Chemical Romance while the soundtrack featured music by Rancid's Tim Armstrong and Turing Machine, bringing an entirely new angle to porn—one that wasn't just about sex, but an entire alternative culture.
Over the years, Joanna Angel's network of websites grew to include the award winning JoannaAngel.com, PunkSchoolGirls.com, HeavyMetalPussyParty.com, CumOnMyTattoo.com, as well as several others.  She also continued to expand her film library, breaking into mainstream adult with alt-porn classics like Joanna's Angels, Cum On My Tattoo, and Re-Penetrator.
As she continues to recruit other like-minded inked beauties and bring life to new ideas, Joanna Angel remains successful in an industry dominated by men and the stereotypical porn star, tattoos and all. You can read more about Joanna Angel and her business in the book The Unsexpected Story.